Stylish And Sophisticated Dog Beds Advice, House Decor for pets tips, Property canine guide
Stylish And Sophisticated Dog Beds to Suit Your Home Decor
16 Sep 2020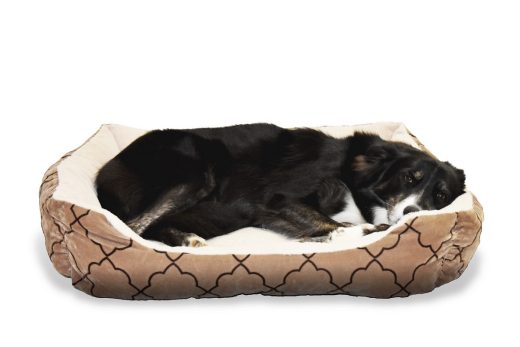 We all want to provide a cozy bed for our canine companions. Comfortable dog beds ensure better sleep. What's even better when your pups get enough rest, learn faster, are more playful, and have good behavior.
However, dog beds can totally change up your home's aesthetic value in a negative way if you don't choose the right ones. This should not be the case. You should enjoy a great-looking home and a super stylish dog bed for your adorable pup. How you integrate the bed into your home matters a lot.
Stylish And Sophisticated Dog Beds Advice
In this article, we have compiled various modern style dog beds to match your home's decor.
Best Friends By Sheri Luxury Shag Faux Fur Donut Cuddler
The shaggy faux fur dog bed By Sheri is extra soft and cozy for maximum comfort. Its round shape creates a comfortable environment and is convenient, especially for pups who like to curl up.
The raised outer rim supports the head and neck for more comfort and makes the dog feel secure. For muscle pain and joint relief, this high-quality bed has an incredibly soft filling. It also has deep cliffs for extra warmth and comfort.
These dog beds are available in various adorable natural colors, making them an absolute decor for your home design. That's not all. The bottoms are water and dirt resistant, ensuring your floor's safety in case of an accident.
One outstanding advantage of this dog cuddler is that it's safe for machine wash and drying. This way, you get to conveniently wash it regularly to control excess fur, pet odor, or soil particles.
Archie & Oscar Constantine Quicksilver Dog Sofa
Searching for a dog bed that will blend in perfectly with your interior decor? Try this Constantine quicksilver dog sofa from Archie and Oscar. This adorable and classy product is available in different colors. You, therefore, have an option to choose the one that fits your home decor and design.
The sofa is slightly raised from the ground and has a strong and durable wooden frame. In addition, the sidearms are raised, just in case, your dog loves to lean. It also has a pocket on the sides where you can store your pet's toys.
Furthermore, the cushions are super soft, ideal for your dog's quality sleep, and better health in general. The material is also easy to wash, with removable cushion covers.
Treat A Dog PupRug Faux Fur Memory Foam Orthopedic Dog Bed
Why stress over getting a dog bed when you can go for a dog rug? Even when sprucing up your home, the PupRug Faux Fur Memory Foam Orthopedic Dog Bed is a modern pet bed that blends naturally with your home decor. It comes as a fashionable posh rug that would look great against your furniture. You don't have to hide your bulky pet bed when visitors are around.
The PupRug Dog Bed has a memory foam base covered with a faux fur cover for supreme style and comfort. The orthopedic memory foam helps relieve joint pains and maintains good health and mobility for your adorable pup.
About your pet's hygiene, the faux fur cover is removable and washable. That's not all. The non-skid bottom minimizes unwanted shifting and moving. There is also a water-resistant liner that protects your pup against accidents. What's even better, this dog bed is not raised. It is accessible to old and injured or disabled dogs.
SportPet Designs Luxury Waterproof Pet Bed
If you're looking for a super stylish dog bed to supplement your home decor, SportPet
Designs Luxury Waterproof pet beds got you covered. With neutral colors, this production from SportPet Designs mixes naturally with furniture. It has a unique style and colorful touch.
The fine-textured, shaggy dog bed is great for pets of any age since they come in different sizes. Its ultra-dense foam cushion provides a cozy environment for your dog. Since the cover to the cushion is removable, you can have different cover designs to fit your home decor. The cushion has a waterproof lining to prevent accidents.
This dog bed is easy to maintain since the cover is removable and 100% machine washable. You don't have to worry about wearing out, and deformation as this pet bed can remain in shape for more than 3 years. Give your furry friend that sleek experience today.
Tucker Murphy Pet Bugg Mid Century Modern Dog Sofa
Spoil your favorite dog with this outstanding bed created in an appealing aesthetic style and maximum comfort.
Tucker Murphy pet sofa brings that mid-century style to your home design. as well as a high-density cushion for your dog.
With a sleek wood frame and fine thin legs, this dog bed can add to your home decoration rather than just a dog bed. The water-resistant cushion simplifies cleaning and maintenance.
Get your pets this Tucker Murphy dog sofa and let them sleep on a nice calming dog bed.
The Casper Dog bed, from Casper's sleep products, is the perfect modern resting surface for your wonderful dog. It blends with your home furniture easily, given its variety of neutral colors.
This dog bed is tailored to cater to dogs' natural behaviors.
With dogs spending more than half of their lives sleeping, the last thing they want is an uncomfortable sleep. The Casper dog bed comes with a memory relaxing foam, which helps minimize joint pains and improve sleep quality. The foam is covered with a tough cover material able to withstand any likely damage.
The cover is removable and fully machine washable.
Stylish And Sophisticated Dog Beds Final Thoughts
Dogs spend more than half of their lives sleeping. Therefore, your dog needs to enjoy sound sleep and a nice rest in general. Same way, you need to maintain your home's design scheme.
Striking a balance between the two can be a challenge. Luckily, there are various stylish dog beds that can match your home decor.
You could always even opt for Dog Sofa Beds, have a look at rested paws to see if they are suitable for your decor.
You can now show your cute little furry friend some love and surprise it with a stylish dog bed that blends naturally with your home decor.
Comments on this Stylish And Sophisticated Dog Beds help article are welcome.
Building Articles
GPS Dog Fence Vs In-ground Dog Fence
GPS Dog Fence Vs In-ground Dog Fence
Comments / photos for the 5Stylish And Sophisticated Dog Beds Advice page welcome