Top 5 most popular casinos, Gambling architectural design, Casino De Monte Carlo in Monaco, Caesars Palace Las Vegas
Top 5 Most Popular Casinos!
20 Jan 2023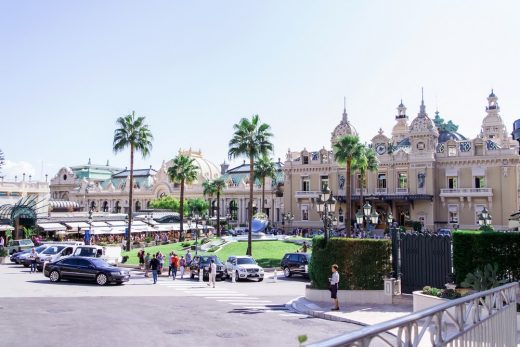 The online casino is the future of gambling with its access to such a wide range of people. However, before these online casinos, there were these brick and mortar casinos that were the only way possible for people to gamble. Despite the growth of online gambling, the land-based casinos are still frequented for their historical value and tourist landmarks.
Top 5 Most Popular Casinos List
Casino De Monte Carlo, Monte Carlo in Monaco
This wonderful casino first opened its doors in 1865, over 100 years ago! The idea for the Monte Carlo casino was first thought up by Princess Caroline of Monaco in order to save the monarchy from bankruptcy. In 1854, Princess Caroline's son, Charles, opened the first rendition of the casino in 1856. It wasn't until 1863, when a man called Francois Blanc took over the establishment of a successful casino in Monaco that the place finally saw some decent revenue.
The current complex, which is also a hotel and opera house, has four gambling establishments that are owned by the royal family of Monaco, and is the destination for many wealthy clients and celebrities. Monte Carlo offers games such as Poker, Blackjack, Roulette, Baccarat, Trente et Quarante and so much more.
Caesars Palace, Las Vegas in USA
This roman themed hotel and casino was founded in 1966 by a man named Jay Sarno and Stanley Mallin. The iconic casino has many famous designs such as the huge chandelier in the shape of a roman medallion with 100,000 handmade crystals. Caesars Forum was the original casino in 1966 with 30 table games and 150 slots. The current casino holds games such as Blackjack, Craps, Spanish 21, Pai Gow, slot machines and so much more!
As one of the largest and most well-known landmarks of Las Vegas, it has seen many celebrities grace its doors as they perform at the casino. Some of these artists include Frank Sinatra, Dean Martin, Teresa Teng, Liza Minnelli, Brooks & Dunn and Tina Turner. Of course there are many more on the list.
The Venetian, Macau in China
This hotel and casino resort is owned by Las Vegas Sands, an American company and is located on the Cotai Strip. It is the second largest casino in the world and is based off the original Venetian casino in Las Vegas. The casino famously has four themed gaming rooms: Golden Fish, Imperial House, Red Dragon, and Phoenix.
The casino includes games such as Craps, Blackjack, Poker, Sic Bo, Fan Tan, Baccarat and Dragon Phoenix. They also include slot machines! In total there are about 3400 slots and 800 table games! As well as being a casino, it's also a place of entertainment with indoor function rooms for sport events, concerts, and television awards.
Wynn, Las Vegas in USA
Another luxury resort and casino in Las Vegas, this casino's conception started in the 2000s and was completed in 2005 on a $2.7 billion budget making it the most expensive resort built at that time. Unlike other casinos, this one doesn't have a theme with the main idea of the actual building being an attraction. Furthermore, more additions were made to the complex in 2010 such as the Encore tower!
The casino boasts amazing restaurants with many accolades, including a Michelin Star for Wing Lei. It also boasts its own personal entertainment called the Le Reve at the Wynn and Encore theatre, a gold course called the Wynn Gold Club, a nightclub called La Bete and so much more.
The casino houses many games such as Baccarat, Blackjack, Craps, Roulette, Pai Gow poker, Texas Hold 'Em and Three Card poker.
Casino Barriere de Deauville, Deauville in France
This historic casino was built and founded in 1912 and currently belongs to the Lucien Barriere Group. Eugene Cornuche had the original casino built by an architect named George Wybo and was completed in 1988 by another architect named Jacques Garcia. The interior of the casino has a lovely baroque style of 20cm high ceilings with red and gold décor.
The casino currently holds 300 slot machines, 36 Video Poker games, 22 English Roulette games, as well as traditional French Roulette, Poker, and Blackjack! It also has a three restaurants and bars to keep players entertained: the Plaza Café, Brummel, Cercle, O2 Bar and The Circle Lounge. It's also home to a lovely theatre that is a supposed replica of the Petit Trianon at Versailles. It also has a private cinema as it is a founding partner with the Deauville Film Festival.
Comments on this Top 5 Most Popular Casinos article are welcome
Casino Buildings
Casino Building Designs
Venetian Macao Resort Hotel Casino building in China: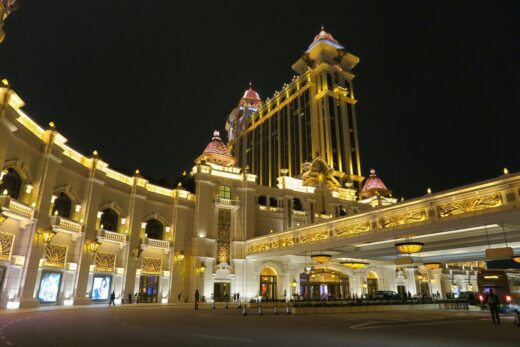 5 most beautiful casino buildings in world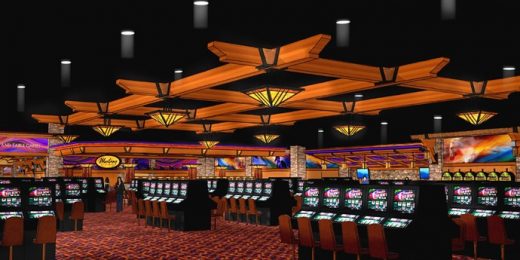 Casino Architecture Design Guide
What countries suffer most from online casinos?
Cryptocurrency & Bitcoin
Crypto and Bitcoin Posts
Bitcoin decentralized currency
Comments / photos for the Top 5 Most Popular Casinos page welcome