5 African bush camp impressive expeditions guide, Victoria Falls adventure, Okavango Delta, Kalahari wildlife visit
Five of African Bush Camp's Most Impressive Expeditions
30 August 2023
If you're dreaming of a fantastic adventure, look no further than African Bush Camps. They're one of the top safari companies out there, and they know how to give you an experience you'll never forget. What makes them special?
They focus on making your trip as real and exciting as possible, bringing you up close to nature and even local cultures. They offer trips to some truly awesome places, including the world-famous Victoria Falls! In this article, we will dive into five of their most jaw-dropping expeditions you won't want to miss. So buckle up, because it's going to be a wild ride!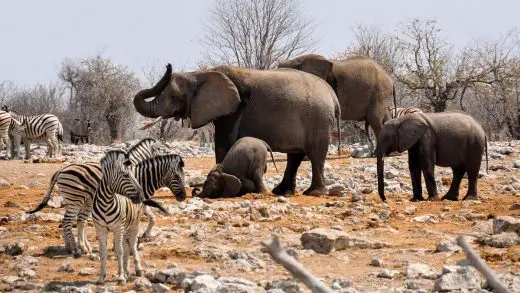 The Ultimate Victoria Falls Adventure
Prepare for a heart-pounding, eye-widening adventure with African Bush Camps' "Ultimate Victoria Falls Adventure." This isn't just a quick day trip; it's an all-out experience lasting three to five days, depending on your chosen package. From the moment you arrive, you'll be plunged into a whirlwind of activities that bring you face-to-face with one of the world's most stunning natural wonders: Victoria Falls.
Victoria Falls Adventure Highlights and Unique Features
Now, what makes this expedition the "ultimate" experience? First off, you're not just going to stand at a viewpoint and snap some photos—though you can certainly do that too! This trip takes you above, around, and even below the falls in ways you never imagined.
Helicopter Rides: Ever wondered what Victoria Falls looks like from the sky? Well, you're in luck. One of the expedition's highlights is a thrilling helicopter ride that takes you over the falls, giving you a bird's-eye view of this natural marvel.
White-Water Rafting: If you're an adrenaline junkie, you'll love the white-water rafting part of the trip. Imagine racing down the Zambezi River, which feeds into the falls, with heart-pounding rapids and spectacular views at every turn.
River Cruises: For those who like their adventures a bit more laid-back, there's also the option of a serene river cruise. You'll get to enjoy the sunset while spotting hippos and crocodiles, a truly magical experience.
Guided Tours: Learn about the history and geology of Victoria Falls with an expert guide. You'll venture into park areas that many visitors don't see, gaining deeper insights into this incredible natural wonder.
Whether you're an adrenaline seeker or just want to soak in the beauty of Victoria Falls, this expedition has something for everyone. It's the kind of trip that makes you realize just how amazing our planet is—and leaves you with memories that last a lifetime.
Safari and Sand
Why choose between a thrilling safari and a relaxing beach vacation when you can have both? African Bush Camps' "Safari and Sand" expedition offers you the best of both worlds. Typically spanning 7 to 10 days, this unique journey takes you from the untamed wilderness of the African savannah to the idyllic beaches of the Indian Ocean.
Safari and Sand Highlights and Unique Features
The beauty of this expedition lies in its perfect balance of adventure and relaxation, allowing you to engage with nature in different settings. Here's what sets this trip apart:
Two-in-One Experience: Most vacations make you choose between different types of experiences. But "Safari and Sand" marries the raw thrill of a safari with the calming beauty of the beach. You can track lions in the morning and build sandcastles in the afternoon!
Customizable Itineraries: While the trip is pre-planned to offer the best experiences, there's room for customization. Want to spend more time snorkeling than game-watching? You can tailor the trip to suit your interests.
Luxury Accommodations: Whether in the bush or by the beach, you'll stay in top-notch accommodations. Think luxury safari lodges and beachfront villas offering excellent service and amenities.
Expert Guides: African Bush Camps employs knowledgeable guides to enrich your safari experience. Learn about the diverse ecosystems, identify animal tracks, and discover lesser-known facts about the wildlife you encounter.
Beach Activities: After the safari, a plethora of beach activities awaits. From snorkeling and scuba diving to paddleboarding and beach volleyball, there's no shortage of ways to enjoy the ocean.
Local Cuisine: The trip also offers a culinary adventure, introducing you to local flavors, whether dining in the bush or by the sea. From freshly caught seafood to traditional African dishes, your taste buds are in for a treat.
With its diverse range of activities and experiences, the "Safari and Sand" expedition provides an unparalleled vacation that satisfies your wanderlust on multiple fronts. It's not just a trip; it's a full-fledged adventure for the senses.
The Wildlife Extravaganza
For the true wildlife enthusiasts out there, African Bush Camps presents "The Wildlife Extravaganza," a safari expedition unlike any other. This expedition usually lasts 7 to 14 days and is a one-way ticket to some of Africa's most renowned wildlife sanctuaries. From the lush landscapes of the Okavango Delta to the arid plains of the Kalahari, this expedition offers a smorgasbord of habitats and, consequently, a diverse range of wildlife.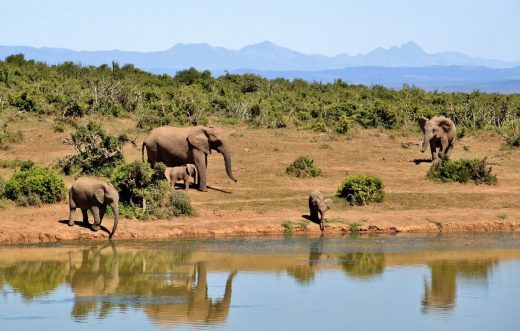 Wildlife Extravaganza Highlights and Unique Features
The Wildlife Extravaganza lives up to its name by offering extensive wildlife-spotting experiences that would make any nature lover's heart skip a beat.
Varied Habitats: One of the expedition's standout features is its traversal through various ecosystems. Each location offers unique animals to discover, from wetlands to deserts.
Big Five and Beyond: While many safaris focus on the Big Five—lion, leopard, rhinoceros, elephant, and Cape buffalo—this expedition broadens your wildlife scope. Anticipate encounters with lesser-known but equally fascinating species like the African wild dog, cheetah, and hyena.
Birdwatching Bonanza: With over 500 species of birds in some of the regions you'll visit, this expedition is a birdwatcher's paradise. From eagles soaring high to waders in the wetlands, there's no shortage of feathery friends to spot.
Nocturnal Safaris: Have you ever wondered what the animal kingdom is up to when the sun goes down? The nocturnal safaris offer a glimpse into the night-time habits of creatures like the elusive leopard and the crafty aardvark.
Guided Walks: Besides traditional vehicle-based safaris, you'll have the opportunity to embark on guided walking safaris. This provides a more intimate, ground-level interaction with the environment.
Photographic Opportunities: The diverse settings and abundant wildlife make this an ideal trip for photography enthusiasts. Capture moments that you'll treasure long after the journey ends.
To summarize, "The Wildlife Extravaganza" is a feast for the senses and a treasure trove of unique animal encounters. Whether you're a seasoned safari-goer or a first-timer, this expedition offers an unparalleled deep dive into the fascinating world of African wildlife.
Cultural Odyssey
If you want to go beyond the animals and landscapes to delve into the rich tapestry of African cultures, African Bush Camps have crafted the perfect expedition for you: "Cultural Odyssey." Lasting around 7 to 10 days, this journey takes you through various environments, each home to different communities with unique traditions, languages, and ways of life. It's not just a safari; it's a cultural immersion experience that widens your understanding of the world.
Cultural Odyssey Highlights and Unique Features
While many expeditions focus on nature, "Cultural Odyssey" brings human stories to the forefront. Here are some of the activities and experiences that set this expedition apart:
Community Visits: One of the most enriching parts of the expedition is the chance to visit local communities. Whether it's a Maasai village in Kenya or a San community in Botswana, you'll get to see life from their perspective.
Artisan Workshops: Take part in workshops where you can try your hand at traditional crafts. Whether it's weaving, beadwork, or pottery, you'll gain a newfound appreciation for these age-old crafts—and perhaps even take home a souvenir you made yourself!
Cultural Performances: Witness traditional dances, songs, and storytelling sessions that offer a window into the soul of each community. These performances are not just entertaining but also deeply symbolic and meaningful.
Local Cuisine: Your palate is also in for an adventure. Enjoy meals that are not just delicious but also culturally significant. Learn about the ingredients, preparation techniques, and the history behind dishes passed down through generations.
Historical Sites: The expedition includes visits to important historical and archaeological sites, offering a glimpse into the past. Learn about ancient civilizations that once thrived in these lands and how their legacy continues influencing cultures today.
Ethical Engagement: African Bush Camps ensures that all interactions are respectful and beneficial to the local communities. This isn't just tourism; it's a mutual exchange of knowledge and respect.
Cultural Odyssey is more than just a holiday—it's an educational journey that enriches your mind and soul. By the end of the expedition, you'll have more than just photos; you'll have unforgettable memories and a deeper understanding of the diverse cultures that make up the tapestry of Africa.
5 African Bush Camp Impressive Expeditions Conclusion
Choosing the perfect African expedition can be overwhelming, but African Bush Camps make it easier with diverse offerings that cater to different tastes and interests. There's something for everyone, whether it's the breathtaking Victoria Falls, the diverse wildlife, cultural immersion, or off-the-beaten-path adventures.
What sets these expeditions apart is the scenic beauty or wildlife encounters and the depth of experience they offer. If you're looking for more than just a vacation, for an experience that educates and transforms, African Bush Camps provides an exceptional gateway into the multifaceted beauty of Africa.
Comments on this guide to 5 African Bush Camp Impressive Expeditionsarticle are welcome.
African Architectural Designs
Africa Architectural Projects
Berhan Bank Headquarter, Addis Ababa, Ethiopia, northeast Africa
Design: Söhne & Partners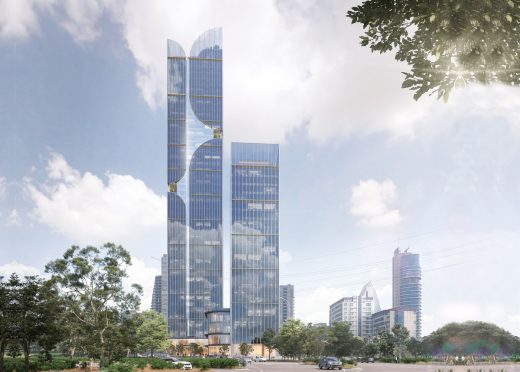 image courtesy of architects office
Berhan Bank Headquarter Addis Ababa
Pure Power/Daily Combat Strategy for Water Collection, Rujewa, Tanzania, eastern Africa
Design: Hong-En,Lin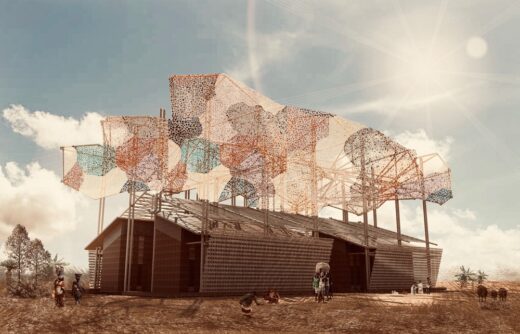 render : Hong-En,Lin
Pure Power, Tanzania, Eastern Africa
Bidi Bidi Refugee Music & Arts Centre, Uganda
Design: Hassell with LocalWorks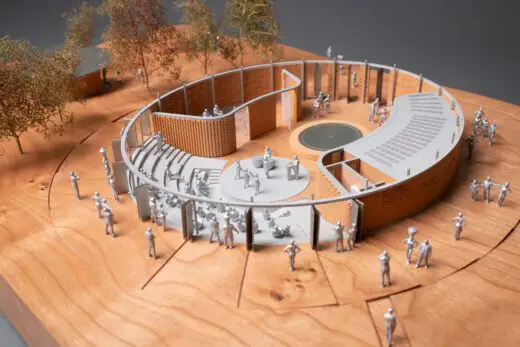 image courtesy of architects office
Bidi Bidi Pavilion at London Design Biennale
Kigali Green City Project, Rwanda
Design: Feilden Clegg Bradley Studios + regional architects Light Earth Designs, A Studio Space and Studio FH Architects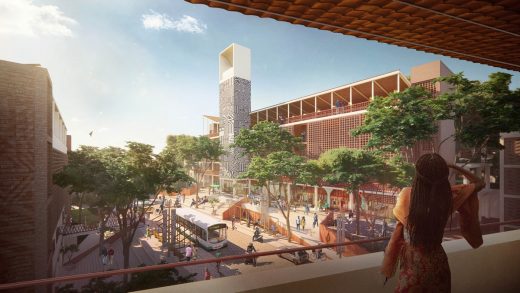 image : FCBS
Kigali Green City Project
Master Plan Langue de Barbarie, Saint Louis, Senegal, West Africa
Design: Cosmos Architecture, of CosmosIvicsa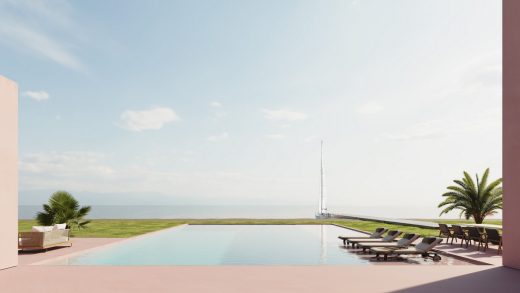 images courtesy of architects practice
Langue de Barbarie resort
Comments / photos for the 5 African Bush Camp Impressive Expeditions page welcome